Song of the Day: "Tennessee Whiskey/Drink You Away" by Justin Timberlake and Chris Stapleton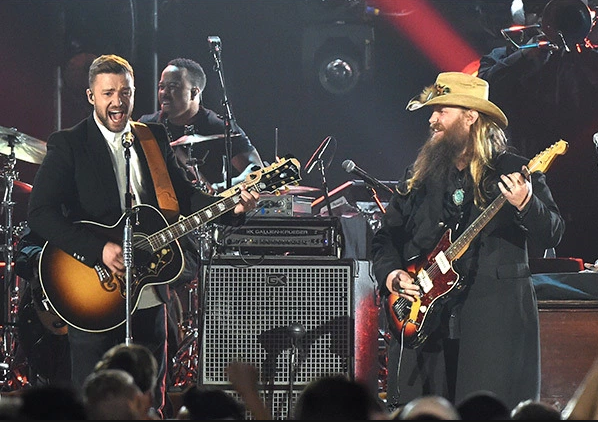 Hang on for a minute...we're trying to find some more stories you might like.
Today's SOTD is really a POFT (Performance of the Day). But in reality, this is more like the POTY (Performance of the Year), or more accurately, the POAL (Performance of a Lifetime). How did SOTD turn into POAL? Well, I'm so glad you asked.
The 2015 Country Music Awards were going as most music awards shows do: slowly. But everything changed when the words "Justin Timberlake" escaped the host Brad Paisley's lips. The man made famous for his good looks, incredible musical talent and allegedly exposing Janet Jackson's right breast in front of 90 million viewers stood coolly on the stage in front of an entire genre of the music industry never associated with the artist behind classics like "Sexy Back" and "Summer Love." Next to Timberlake, covered by impressive facial hair and heavy clothing stood Chris Stapleton, a 37-year-old and country music's "New Artist of the Year." He seems to have found his sound with his debut solo album and Country Album of the Year "Traveller."
The mismatched duo opened with Stapleton's song "Tennessee Whiskey," and proceeded to prove that they were as far from mismatched as possible. Timberlake's Memphis roots shown through in a beautiful combination of bluegrass and soul on his song "Drink You Away," while Stapleton shocked the world with his powerful vocals and incredible riffs. It was too hard to pick out one song, so I took the whole performance, a deserving POAL, POTY, POFT, and of course, SOTD.
"You hate 100% of the songs you don't listen to." -Wayne Gretzky
Joel