Huron Players Perform "Fantastick" Show
February 17, 2017
Huron High School's New Theatre was transported to a new world as the live orchestra played enchanting music for the Huron Players winter musical "The Fantasticks", with music by Harvey Schmidt and lyrics by Tom Jones. The student-run theatre group displayed their musical talents for this unconventional, '50s style love story.
"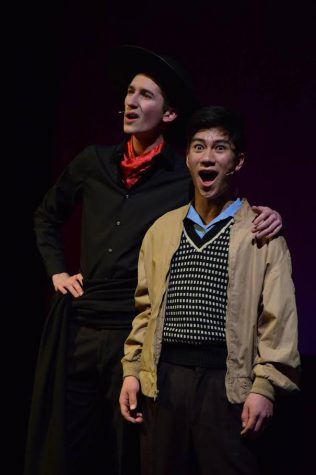 The Fantasticks" is also known as the longest running musical for its record breaking 42 years in the shows original Off-Broadway production. The story follows two neighboring fathers who trick their children, Matt and Luisa, into falling in love. Colorful and humorous scenes are presented throughout the show as well as moving musical numbers such as "Try to Remember."
The story begins with "El Gallo" (The Bandit) played by senior Mitchell Salley as both the narrator and a character. El Gallo explains the love of Matt and Luisa and how their parents are pretending to feud, only to grow the desire of Matt and Luisa for each other.
Senior Hannah Schweitzer, the president of Huron Players, portrayed Luisa; a whimsical young girl that daydreams about love. "She's really weird and she's a dreamer," Schweitzer said. "What I like about this character is that she's not your same female that doesn't really have a personality, she's really got some quirk to her and she's really awkward. I think that's something that all teenage girls are and I'm really happy we get to see a real person."

Also playing an important role was sophomore Anna Austin as Huck, a female interpretation of a traditionally male role as Matt's father. Being fairly new to theatre, Austin had some nerves opening night. "Before opening night when I saw my mom I started crying," Austin said, "I was really nervous mostly because I'm going to sing and act in front of everyone. That's terrifying." Austin ended up blowing the audience away with her musical talents in numerous songs throughout the production.
The musical was about two and a half hours long, but grasped the audience's attention from beginning to end. With a cast of just eight people, Schweitzer applauded the production: "This is my fourth musical, I really like this one, it's really quirky," Schweitzer said "I also like the really small cast because you get to know everyone in the cast and feel really connected with them. It's an important, unique feeling that I really like."
Not only was the musical itself admired, but the Huron Players theatre group got praise as well. "It has affected my life a lot, I made a lot of friends," Austin said. "I didn't think I would make any friends, but I made some new friends. It gives me a hobby and something I can feel proud of, and that feels really good."
Likewise, Schweitzer has been heavily influenced by the club "I love it so much," Schweitzer said. "Everyone here is super accepting, I don't think I could have gone through high school without this place. I come here everyday after school, and it's why I get up in the morning." The student-run theatre group has generated an active and determined group of young talent, roles in the club ranging from actor to playwriting to publicity and fundraising.