Pioneer High School Poetry Slam Sends Ten Poets to Finals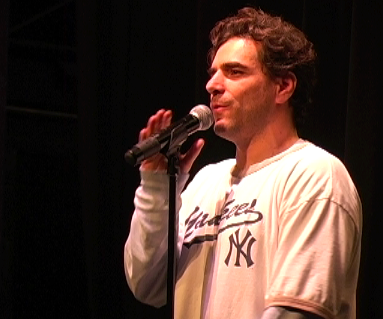 Hang on for a minute...we're trying to find some more stories you might like.
Ann Arbor Poetry Slam season rolled right along on Thursday, March 17th in Pioneer High School's Little Theater. Over 25 poets competed for the highly-coveted chance to perform at the Ann Arbor Poetry Slam Finals on March 24th at the Neutral Zone. Ten of the nearly 30 poets who read at Pioneer's slam were granted high enough scores by the judges (Maggie Hanks, Aimée Lê, Ben Alfaro, Mike Moriarty, and Gahl Liberzon) to progress to finals: Allison Kennedy, Beth Johnson, Joe Lipson, Mara Abramson, Claire Schorin, Alyssa Natoci, Claire Tobin, Robyn Green, Carlina Duan, and Sara Ryan. Watch videos of some of the performances below. Please note that the Ann Arbor Youth Poetry Slam does not practice censorship.
First Place: Allison Kennedy
[quicktime]http://the-communicator.org/wp-content/uploads/2011/03/phs-slam-allison-kennedy.mov[/quicktime]
Second Place: Beth Johnson
[quicktime]http://the-communicator.org/wp-content/uploads/2011/03/phs-slam-beth-johnson.mov[/quicktime]
Third Place: Carlina Duan
[quicktime]http://the-communicator.org/wp-content/uploads/2011/03/phs-slam-carlina-duan.mov[/quicktime]
Mara Abramson
[quicktime]http://the-communicator.org/wp-content/uploads/2011/03/phs-slam-mara-abramson.mov[/quicktime]
Claire Schorin
[quicktime]http://the-communicator.org/wp-content/uploads/2011/03/phs-slam-claire-schorin.mov[/quicktime]
Alyssa Natoci
[quicktime]http://the-communicator.org/wp-content/uploads/2011/03/phs-slam-alyssa-natoci.mov[/quicktime]
Robyn Green
[quicktime]http://the-communicator.org/wp-content/uploads/2011/03/phs-slam-robyn-green.mov[/quicktime]
Joe Lipson
[quicktime]http://the-communicator.org/wp-content/uploads/2011/03/phs-slam-joe-lipson.mov[/quicktime]
Sara Ryan
[quicktime]http://the-communicator.org/wp-content/uploads/2011/03/phs-slam-sara-ryan.mov[/quicktime]
The Ann Arbor Youth Poetry Slam Finals will be held on Thursday, March 24th at 6:30 PM at the Neutral Zone. Tickets are $5. Contact Jeff Kass with questions at eyelev21@aol.com