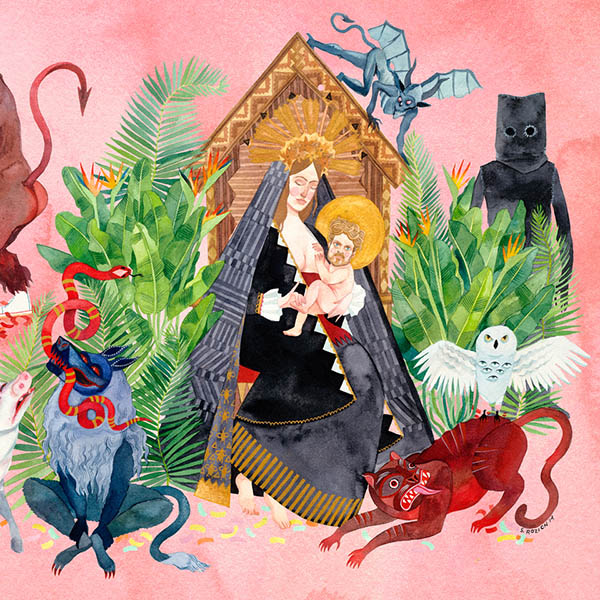 Song of the Day: Chateau Lobby #4 (In C For Two Virgins)
I have been unable to put down Father John Misty's latest album I Love You Honeybear, since its release in Feb. 2015. Josh Tillman's alter-ego is as entertaining as he is refreshing. Tillman incorporates both cynical humor and politics into his lyrics which I believe makes Father John Misty more reminiscent than his previous project under the name J. Tillman. Tillman was the drummer for the modern folk band, Fleet Foxes. After their hiatus, he went on to his current project Father John Misty and remained with the Sub Pop record label. He went on to release Fear Fun in 2012. Fear Fun is a unique album but Father John Misty is less recognizable as a character or does not have the production like on I Love You Honeybear. It also is not as reflective on American society from a young person's perspective and does not have stand out songs like "Bored in the USA" or "Holy Shit".
One of the singles from Honeybear, "Chateau Lobby #4 (In C For Two Virgins)" is an upbeat ballad about Tillman's wife, Emma Tillman. This song is more like a story then anything, in just under three minutes, Tillman accounts for their early relationship. This song is significant to the album's presentation as a love letter for his wife. Included with the double LP record is a poster with all of the song's lyrics as well as pictures of their wedding, original lyrics in a journal and the letter that is mentioned in the chorus.
"You left a note in your perfect script, stay as long as you want, I haven't left your bed since,"
My favorite aspect of the song is the strong orchestral and trumpet elements. These are prominent through the entirety of Tillman's works, but really take the spotlight in this song. Although at some parts subtle, it creates an eclectic sound the fits nicely into the rest of the album.