Chocolate and Caramel Cake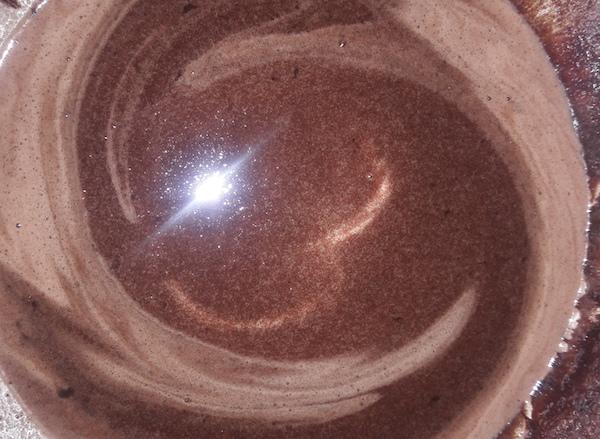 Hang on for a minute...we're trying to find some more stories you might like.
Chocolate and Caramel Cake Recipe
Devil's Food Cake with Caramel Frosting Garnished with Chocolate Chips
Original recipes from allrecipes.com
INGREDIENTS
Devil's Food Cake
-1/2 cup butter
-3 (1 ounce) squares unsweetened chocolate
-2 cups white sugar
-2 eggs
-1 cup water
-2 1/4 cups all-purpose flour
-1 1/2 teaspoons baking soda
-1/4 teaspoon salt
-1/4 cup milk
-1 teaspoon distilled white vinegar
Caramel Frosting
-2 tablespoons butter
-3 tablespoons milk
-1/2 cup packed brown sugar
– 1 cup confectioners' sugar
– 1/2 teaspoon vanilla extract
1. Preheat oven to 350 degrees Fahrenheit. Grease and flour cake pans. Two 9-inch rounds work well.
2. In a small saucepan, melt the unsweetened chocolate and butter together. Set aside to cool slightly.
3. Cream together the sugar and the eggs until light in color. Add the chocolate mixture to the eggs and beat well. Boil one cup of water and blend into the batter while still warm. The batter will be extremely runny at this stage.
4. Mix together the flour, baking soda and salt. Add this mixture to the chocolate mixture and blend well.
5. Mix together the vinegar and the milk and stir into the chocolate batter. Pour into cake pans.
6. Bake at 350 degrees Fahrenheit for 30 minutes or until a toothpick inserted in the center comes out clean.
7. Let the cakes cool slightly then gently remove them from the pans. Set them aside to cool completely while the frosting is made.
8. In a saucepan over medium heat, melt the butter, and mix in 3 tablespoons milk and brown sugar. Boil vigorously for 1 minute.
9. Remove pan from heat, and beat in 1/2 cup confectioners' sugar. Cool slightly, and beat in the vanilla and remaining 1/2 cup confectioners' sugar. Add more milk if the mixture is too thick.
10. Frost the cake, working as quickly as possible before the frosting sets. Garnish with chocolate chips if desired.