Soul Food Friday Presents Traditional Dishes for Fundraiser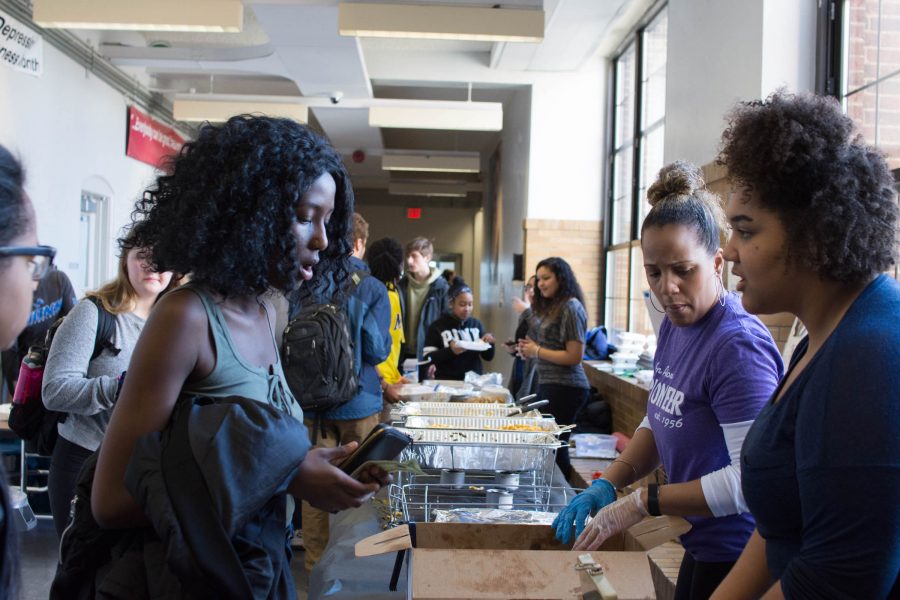 Hang on for a minute...we're trying to find some more stories you might like.
The smell of collard greens and fried chicken waltzed through the air of Community High's third floor at 10:15 on March 10. Janelle Johnson, the CHS Black Student Union advisor, circled frantically around the tables in front of Room 300 and instructed members of the BSU to set up for its much-anticipated fundraiser: Soul Food Friday.
The setup of the event included big tin bins, some with tin foil on top, with all traditional eats inside of them. The menu of Soul Food Friday consisted of many entrees: fried chicken in white, cardboard boxes from Fresh Food market, collard greens with a pervasive taste, mac and cheese and sweet potatoes. Each dish came with a choice of either moist corn bread squares or a King Hawaiian roll, and desserts included peach cobbler and lemon cake.
Many CHS students were ready for the fundraiser. The line for the food started forming around 11:00 a.m., 15 minutes before the official start of the lunch period. After paying six dollars to a member of BSU, who put them in a tin cash box, students were given styrofoam boxes to walk down the long table and be served by BSU students cafeteria-style.
This tradition of serving soul food on a Friday dates even before Johnson's seven-year career as the BSU advisor. BSU students start preparing for the event around a month before, and ask their parents for family recipes or ideas for what to bring. And Johnson knows the secret of why soul food tastes so good: it's homemade.
"To me, everything tastes a little bit better when it's homemade," Johnson said. "That's the thing that I really stress: if we're going to do this and we're going to make this food, it's got to be from the soul."
The proceeds of the fundraiser will go to a possible undetermined field trip taken by the BSU relating to Black culture. Because it happens once every semester, Johnson advises people to anticipate a new Soul Food Friday for next school year.