Red Hot Chili Peppers "The Getaway" Tour Review
A Review Of The Band's 2/2/17 Show At Joe Louis Arena.
Hang on for a minute...we're trying to find some more stories you might like.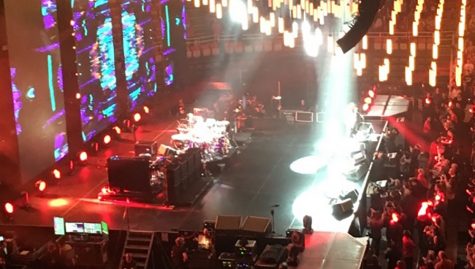 The mood was light on Thursday Feb. 2 as friends and families waited patiently for the Red Hot Chili Peppers to take the stage at Joe Louis Arena. Thousands of fans sat around telling war stories of past shows and arguing about whether "Blood Sugar Sex Majik" was a better album than "Californication" or if they liked the band's latest offering "The Getaway." The first act to go on was Jack Irons. Irons was the original drummer for the Chili Peppers but only played short stints with the band following their formation as he saw it as a side project to his other band, What Is This, leaving other drummers to fill in. The only Chili Peppers album he played on was "The Uplift Mofo Party Plan" but he is credited with writing and recording songs on several of the groups other releases such as "The Red Hot Chili Peppers," "Freaky Styley," "The Abbey Road EP" and "Mother's Milk." In his set he played drums over electronic backing instrumental tracks in front of a extremely psychedelic array of videos. Die hard fans went crazy for Irons and truly appreciated seeing him touring with the band.
The next act to go on was Trombone Shorty, a jazz funk artist from New Orleans. He and his band were very energetic and played with an intensity and excitement that got the crowd out of their seats and moving. Finally, it was the moment everyone had been waiting for. The lights dimmed and spotlights illuminated plooms of smoke going up all over the stadium. The crowd roared as drummer Chad Smith, bassist Flea and guitarist Josh Klinghoffer ran out on stage and burst into a funky warm up jam. Within minutes, singer Anthony Kiedis jumped onto stage and the band transitioned into a blistering rendition of their song "Can't Stop." The Red Hot Chili Peppers are known for their energetic live shows and this show was no exception. They blasted through their hits while throwing in a good amount of new tracks from their new album "The Getaway." The band also surprised the crowd with songs that hadn't been performed yet on this tour including "Detroit," "Under The Bridge" and "Hey." They closed their show with their 1991 hit "Give It Away" leaving the thousands of fans in attendance buzzing with excitement. The Red Hot Chili Peppers put on an amazing show and they are well worth seeing as many times as possible. They will be back in Michigan playing Van Andel Arena in Grand Rapids on June 25.